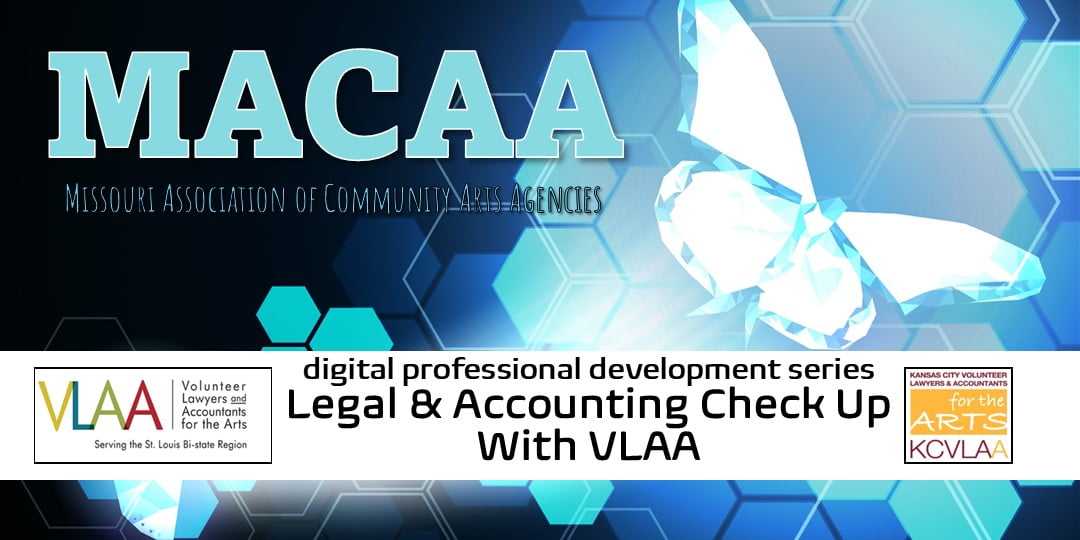 Join us for our digital professional development series with VLAA!
Legal & Accounting Checkup w/ VLAA

 
Date: Thursday March 9, 2023 @ 1pm  60-minute session 
This session is Free as part of your MACAA Membership
Email [email protected] to RSVP and to receive Zoom Link
The Legal & Accounting Checkup session is a 60-minute session led by two of our favorite conference presenters – Sue Greenberg, Executive Director of St. Louis Volunteer Lawyers and Accountants for the Arts and Danielle Merrick, Executive Director of Kansas City Volunteer Lawyers and Accountants for the Arts.  The interactive session will address common legal and accounting best practices for organizations and a Q&A for your burning questions.  The professional development series is open to Missouri arts agency leaders, board members and volunteers. Feel free to share the link with your boards, commissions and volunteers.   
Submit your legal, accounting and/or nonprofit management questions and/or "wish I had known" stories to [email protected] by February 13th!